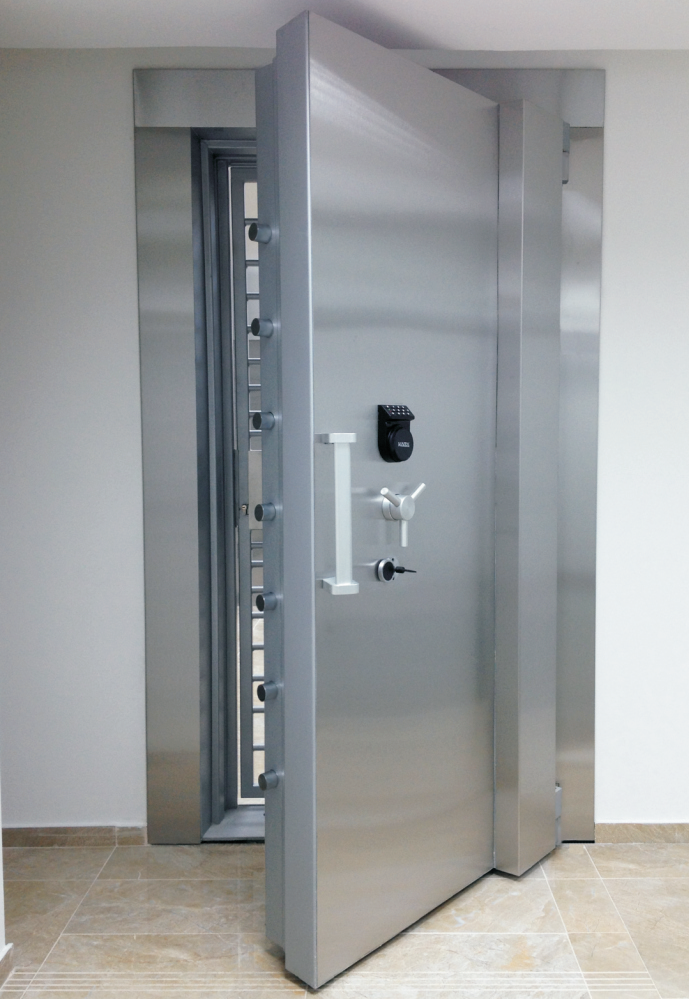 MEGASAFE High Security Vault door ref: JS
Dimensions:
Wall opening (H*W)(cm): 208.3x112
Clear Opening (H*W)(cm): 195x90
Weight: 1450 Kg
Defenses:
Constructed of inner and outer steel plates electrically welded together and enclosing 120mm of the new CS 12000 MONOLITH barrier material
This material was developed as an anti weapon penetration barrier and it provides the most sophisticated means to withstand the most concentrated attacks by:
Heavy duty oxyacetylene torches and unlimited gas supplies.

Ferrous rods with which to intensify the effect of oxyacetylene attack.

Oxy-arc torches.

Power drill, hammers, cutters, chisels and other forcing tools
In addition, Z reinforcement bars are welded to the inner and outer body mixed with special alloy grid to perform a unique solid body.
Standard features:
S&G combination lock made in USA(MEGASAFE PATENT)

1 Double bitted high security changeable key lock with removable bit made in Germany

Push and pull handle to protect the bolt work mechanism (MEGASAFE PATENT)

Glass plate with six relocking devices inside (exceeds the European norms).

Left Swing